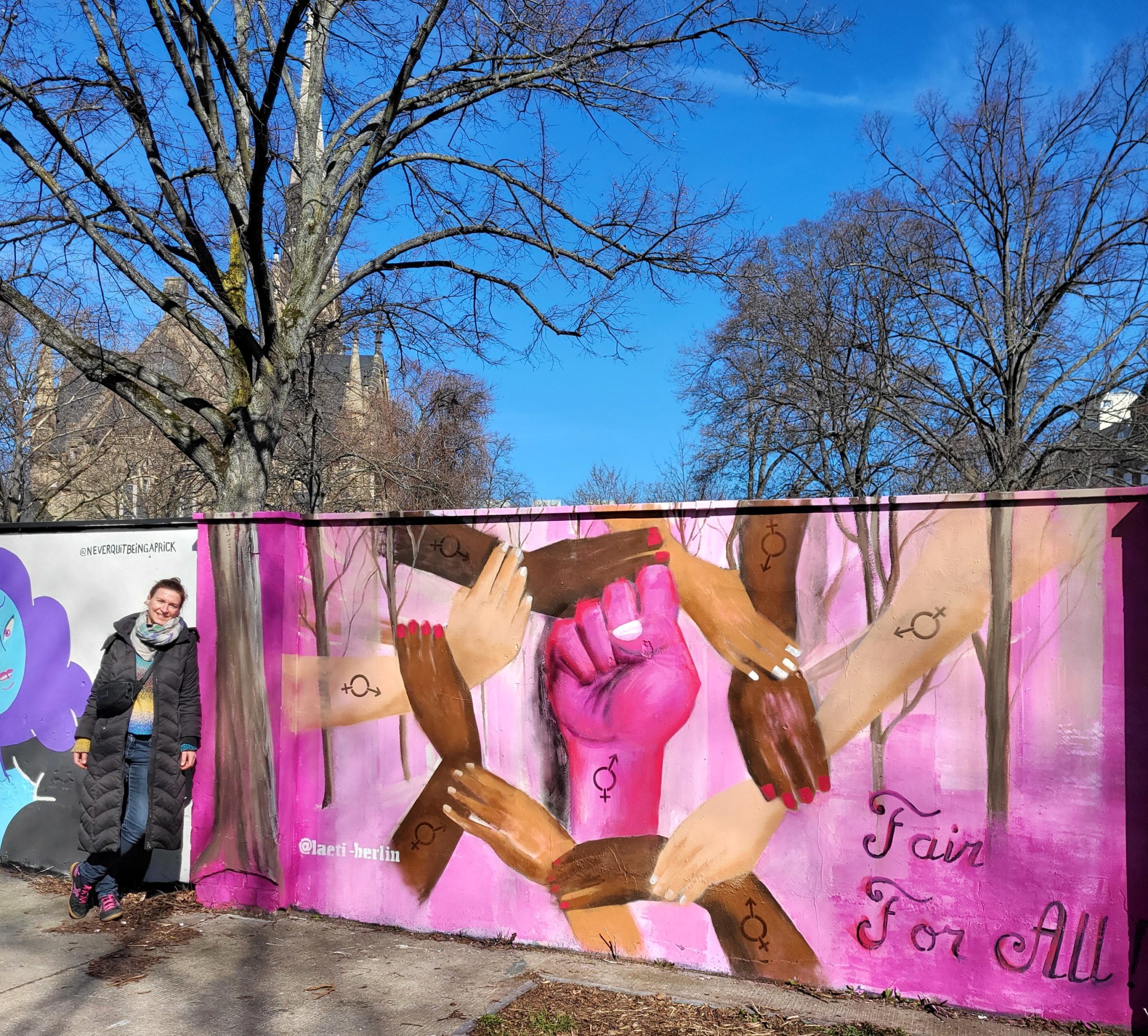 "Fair For All" Wall-painting- 03.2023
I was invited to a graffiti / street art jam, with around 60 artists in March 2023. It was organized by the association " Graffiti Lobby Berlin " in the North Side Gallery (Park am Nordbahnhof) to paint a wall. Map

/ topic: "Equal" for the International Women's Day (08.03.2023) – WOMEN POWER!
I painted for the first time hands with color sprays! I wanted to talk about equal rights for all women in the world, whatever their skin color. That's why I painted black, brown, ochre and white hands who support each other "Fair For All".
– The circle represents equality and harmony .
– I used a stencil with a fusion symbol of the men and women, for the equal rights between them. I placed this on the arms.
– I did an extension of the trees in the background. It's called a "trompe l'oeil" (optical Illusion / visual effect).
/ format: 3,50 m (width) x 2 m (height).
/ tools: I used color sprays and acrylic color for outside with different sizes of brushes. Black marker for the letters and cardboard for stencils. For the hands, I painted the pink fist in the middle of the circle of hands with sprays (red, white and transparent black) and magenta + white acrylic color.The last step was to paint, with a stencil and spray color, the nails of the hands
Red "Warsaw" of @loopcolorsgermany
/ time: I worked 3 days of this mural, in totality 11 hours.
❄️ Such a big challenge to paint under the snow !

#streetart #streetartist #streetartlovers #northsidegallery #streetartberlin #urbanvibescommunauty #streetarteverywhere #berlinartist #graffitiberlin #graffitiart #streetartgermany #berlin #urbanart #muralart
#painting #painter #berlinartist #womenpower #womensolidarity #womensday #internationalwomensday