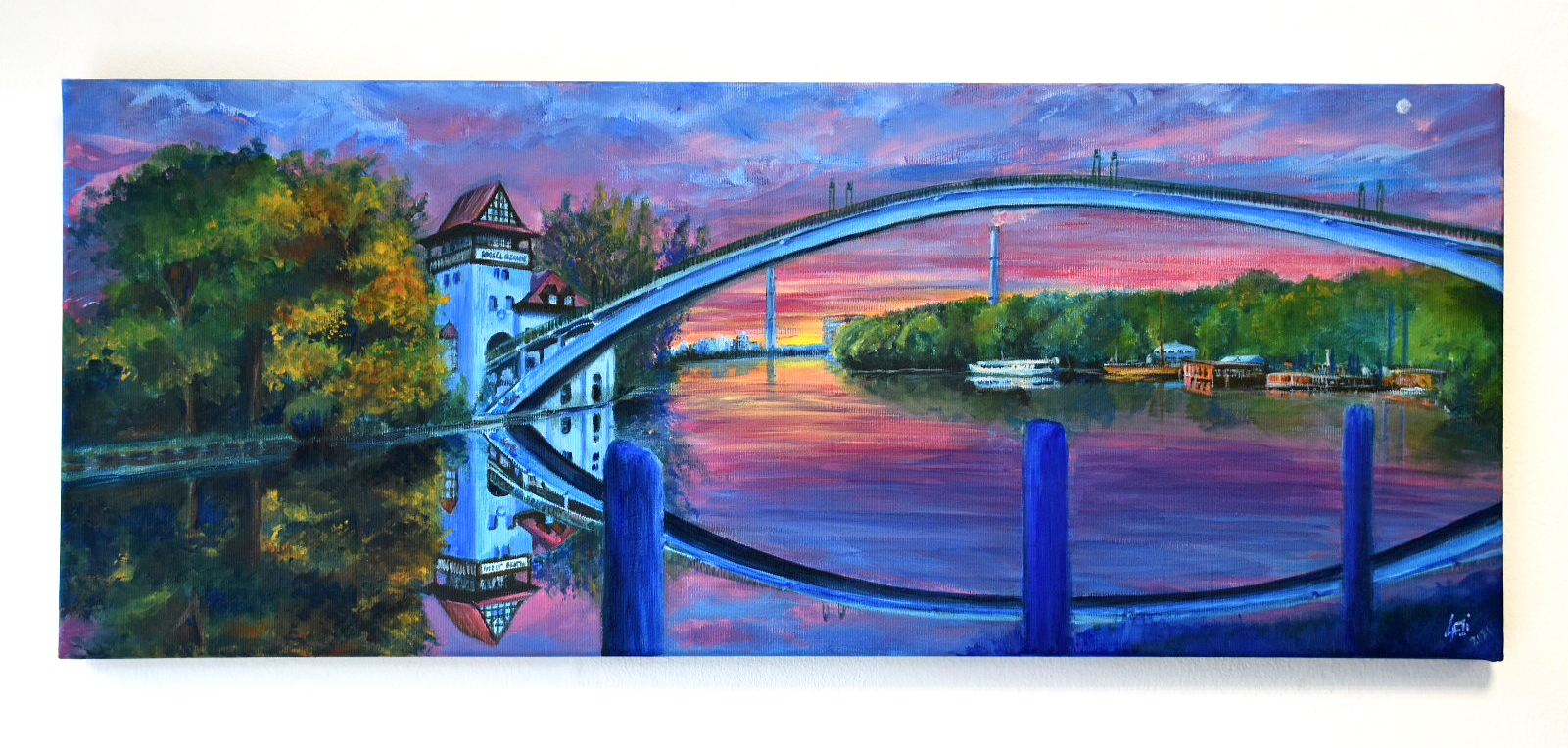 Painting "SUNRISE- Reflection Berlin"
1200 euro
Nr. 1/4 of the series "Reflection Panoramic", bridges & 4 seasons – acrylic on canvas (35 x 70 cm), Laetitia Hildebrand, 05.2021
SUNRISE: Now the sun appears in a halo of rainbow light towards the east. It's the beginning of autumn. In Berlin the temperatures are mild and the trees are starting to turn yellow. It's a really magic place. In the background-right you can see the forest "Plänterwald".
REFLECTION / REFLEXION : The Spree remains calm. It's the pandemic (Covid 19 & Omicron). In the the beginning of the pandemic, we were facing a challenge: isolation and we think a lot. Communication was limited. Places were emptied of their inhabitants and landscapes remain motionless, as if dreamlike. Our reflections, our thoughts become almost realities. So in my series "Bridge / Reflection", I invite you to discover the thoughts of the city, through the reflection in the water of the Spree. A meditative journey in Berlin where time stops. A bridge between two worlds. REALITY or DREAM? Surrealism.
Inspiration: Urban Sketch 27.10.2014,"Insel-der-Jugend- Abteibrücke., Treptower Park" (Berlin- Alt Treptow) –  Fineliner, watercolor and wash – ©Laetitia Hildebrand
The bridge "Abteibrücke" (Abbey Bridge) joins the island and the parc over the "Spree" river. It's a really magic place and soo romantic! I was sitting near the river and I observed the beautiful colors of autumn. In the background-right you can see the forest "Plänterwald".
Kulturalarm e.V., the operating company of the island, sees the place as an experimental ground for all forms of art and so there are many cultural events for young and old alike including live music. @Kulturhaus Insel Berlin. www.inselberlin.de. This picture is also on my Urban Sketches blog.
Here you can see the Insel der Jugend, Treptower Park – Big Poster.