Tote Bags- Recycled
Tote Sling bags & Tote bags
The tote bags recycled Laeti-Berlin are unique products
because I silk-screened them in our collective print salon in Berlin-Wedding.
The bags are made from 100% Recycled Materials (with organic cotton and recycled plastic bottles!) and Fairtrade. These Woven Twill Recycled Tote bags are in natural color (un-dyed).
"They said I was trash but now I'm fashionable"/ About Continental Clothing.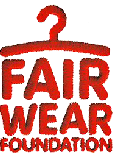 -> Conservation of resources
-> The good for the environment
-> Fair Trade
The Global Recycle Standard is an international, voluntary, full product standard that sets requirements for third-party certification of recycled content, chain of custody, social and environmental practices, and chemical restrictions.
The GRS is intended to meet the need of companies looking to verify the recycled content of their products (both finished and intermediate products) and to verify responsible social, environmental, and chemical practices in the production of these products.
The objectives of the GRS are to define requirements to ensure accurate content claims, good working conditions, and that harmful environmental and chemical impacts are minimized.
Showing all 2 results