Tote Bags- Recycled
Tote Sling bags & Tote bags
Each bag Laeti-Berlin is a unique product
because I silk-screened it in our collective print salon in Berlin.

The bags are made from 100% Recycled Materials (with organic cotton and recycled plastic bottles!) and Fairtrade. These Woven Twill Recycled Tote bags are in two colors: natural (un-dyed) or in grey (melange black).
"They said I was trash but now I'm fashionable"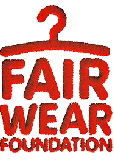 -> Conservation of resources
-> The good for the environment
-> Fair Trade
Showing all 6 results